A summary of the most recent announcements – 12th May 2020
We have had an enormous amount of information announced to us over the last few days. It has left some us a little bewildered and confused but make no mistake, the lockdown is nowhere near over and we are far from beating the virus in the short term.
On Sunday, the PM announced that if you if you can't work from then you should return to work from Wednesday 13th May, however, we know it is not as straight forward as that.
Businesses have always had an obligation to ensure the health, safety and wellbeing of their employees. This obligation hasn't changed bit it is even more crucial that everyone pays attention to H&S guidelines while we are dealing with a virus that knows no boundaries and doesn't discriminate.
Business owners and managers must ensure their workplaces are ready to welcome employees back while adhering to the social distancing guidelines. Health & Safety experts will be best place to help and guide you through what needs to be done around your business operations. The announcement may have caused panic on Sunday as many workplaces are just not ready yet.
Then we hear today (12th May) from Rishi Sunak that the Job Retention Scheme has been extended to October, although the full detail is yet to be published. The scheme will continue as in its current state until the end of July.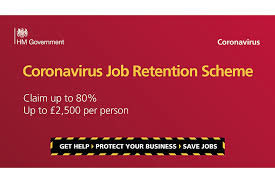 It is thought that employers will have to start sharing the cost of the furlough payments from August.
I suspect that we will see more flexibility around the restrictions that the current furlough scheme insists upon in the fact that employees should do no work or provide services to their current employer. Sharing the cost could enable employers to transition their employees back into the workplace on a part time basis.
Having already heard some feedback on the announcement today, it has brought a level of comfort to employees who are currently furloughed as well as being a lifeline to those businesses who may have been considering starting a redundancy consulting process this week.
Those businesses who cannot even begin to bring employees back such as those in the hospitality and hair and beauty industries, should hopefully feel some respite with this extension.
What does this mean for self employed people? Well nothing yet, but if we follow the way in which the announcements came out at the start of lockdown, we could see further extensions to the Self-Employment Income Support Scheme in the weeks to come – fingers crossed!
Every week brings different news as we progress through the lock down and this brings uncertainty with tragic consequences if we are not careful, so please plan ahead, look after your employees and stay safe.