National Insurance rise reversal – how will it affect my business?
What is national insurance?
National insurance is the tax paid on earnings by employees and employers and paid by the self-employed on profits.
It was introduced in 1911 to support workers who had lost their jobs or needed medical treatment and later expanded to fund the state pension and other benefits and contribute towards the NHS.
National Insurance increase reversed
The government is reversing the 1.25p in the pound rise in National Insurance (NI) introduced in April. NI will now go back to 12% from 13.25%. This was announced by the chancellor Kwasi Kwarteng on the 22nd September.
Almost 28 million people will keep an extra £330 of their money on average next year, whilst 920,000 businesses are set to save almost £10,000 on average next year thanks to the change
Employees under pension age who earn less than £12,570 a year, the move will make no difference – because they don't pay NI.
The previous NI threshold was £9,880 which came into force in April 2022.
How much will employees save in the first year from November on annual earnings?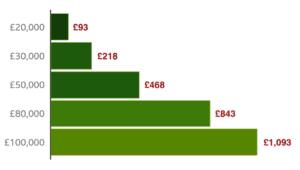 National Insurance and State Pension
National Insurance contributions are required to access a State Pension and it may be for some employees, eliminating the need to pay National Insurance contributions due to the increase in the primary threshold, will result in gaps in their National Insurance record.
It is possible to fill these gaps by making Class 3 Voluntary contributions which are currently £15.85 per week or by way of an entitlement to National Insurance credits.
National Insurance saving or paying more?
For those earning up to £40,000, there is still a potential National Insurance saving from the change implemented on 6 July 2022, but higher earners will continue to pay more in the way of National Insurance.
Other National Insurance and dividend tax changes
As part of the new Health and Social Care Levy, there have been changes implemented for the other classes of National Insurance which affect employers and the self-employed.
Rates of tax on dividends have also been increased by 1.25%, mainly to align owner managed businesses who remunerate owners through dividends.
Further information
Read the Legislation
For more information please visit go to the Gov.uk website. Please note there is no change to the Secondary threshold (the point employers pay NI) so employer NI costs will not change.
The government has also published an online tool to help employees estimate how these changes will impact them.