What are Working Time Regulations?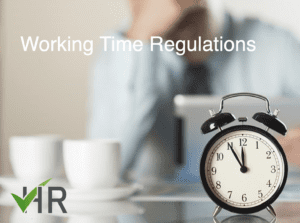 Working Time Regulations
Many employers find the Working Time Regulations a mind-field to understand or some simply don't know about it.
Understandably, when you are first faced with these regulations, you may not know how to decipher the "need to know" information. If you're struggling or want to make sure you have the right information, here are some key facts for you.
The Working Time Regulations govern the hours most workers can work and set:
limits on an average working week
statutory entitlement to paid leave for most workers
limits on the normal hours of night work and regular health assessments
special regulations for young workers
In general, the Working Time Regulations provide rights to:
a limit of an average 48 hours a week on the hours a worker can be required to work, though individuals may choose to work longer by "opting out"
paid annual leave of 5.6 weeks' a year
11 consecutive hours' rest in any 24-hour period
a 20-minute rest break if the working day is longer than six hours
one day off each week or two days in 14
It's important to remember that the Working Time Regulations isn't guidance, this is law.
What counts as working hours?
As ACAS points out, working hours are any time the employee is 'at the employer's disposal'. This means doing things their employer has asked them to do for their job.
Working hours include:
job-related training
travel time as part of a job (this includes travel time between clients or customers)
working lunches
time spent working abroad
paid overtime
unpaid overtime the employer has asked the employee to do and the employee has agreed
time spent on call at the workplace
any time treated as 'working time' under a contract
Working hours do not include:
breaks when no work is done, such as lunch breaks
travelling outside of normal working hours and not requested by the employer
unpaid overtime the employee has volunteered for, such as staying late to finish something off
paid or unpaid holiday
travel to and from work (if the employee has a fixed place of work)
What do you do if you need an employee to work more than 48 hours?  
Firstly, you should check that you have an opt-out form in place asking the employee if they agree to work more than the 48-hour average. If the employee opts-out, this means they are happy to work the extra hours needed.
You can ask an employee to work more than 48 hours in a week however, guidance from ACAS advises that you reduce your employee's hours in the future to average out their weekly hours.
A pertinent question asked by employers is, should I be paying overtime to my employees if they work over their contracted hours or 48 hours a week?
While in law it stipulates that an employer doesn't have to offer a higher pay than normal, it is common practice for businesses to offer overtime to attract employees to work more hours than they are contracted to. It's important to remember, if you do offer overtime, it must be written in the employment contract.
If you're still unsure about the Working Time Regulations and want to ask us questions relating to this, contact us at hello@tickhr.com. We're here and happy to help.
Useful links
https://www.acas.org.uk/working-hours
https://www.gov.uk/maximum-weekly-working-hours