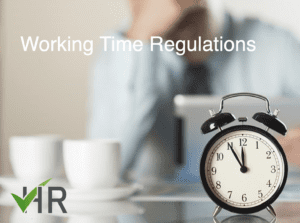 The Working Time Regulations 1998 put a limit on the number of hours that workers can work each week. An employer shall take all reasonable steps to protect the health and safety of their workers, by controlling the hours employees work.
Regulations covering working hours apply to almost every business.
Working Time Regulations state that employees are:
Required to work an average of / no more than 48 hours a week, unless they specifically opt-out.
Entitled to 5.6 weeks paid time off per year.
Entitled to a 20-minute rest break(for working days longer than six hours).
Should have 11 hours of rest between working days.
Are given a minimum of one day off per week.
Not allowed to work more than 8 hours – for night shifts – in any 24-hour period.
Restricted to 8-hours per day and 40-hours per week if they are aged 16-18.
Maximum Hours
Average working hours are calculated over a 'reference' period, normally 17 weeks.
You can work more than 48 hours one week, as long as the average over 17 weeks is less than 48 hours a week.
Trainee doctors have a 'reference' period of 26 weeks and offshore oil and gas sector have 'reference' period of 52 weeks
Rest breaks
The employee has the right to take an uninterrupted break of at least 20 minutes if they work more than 6 hours in a day. In some circumstances this can be split into two 10-minute beaks. This break is unpaid unless stated otherwise.
A break can be taken away from their working area e.g. desk.
A break can be taken at a time that isn't the very start or end of the day.
Some employers might give extra breaks to cover lunch and recreational time.
Breaks during working weeks
An employee is also entitled to 24 hours rest in a 7-day period.
An employee is also entitled to 48 hours rest in a 14-day period, (this is often taken as one block of time, but can be split into 24-hour breaks if the employer allows)
Other types of breaks e.g., shift workers, young workers. More information: –
https://www.acas.org.uk/rest-breaks
Holidays
Almost all workers are legally entitled to 5.6 weeks' paid holiday a year (This is known as statutory leave entitlement or annual leave). Bank or public holidays do not have to be given as paid leave although some employers may include bank holidays as part of statutory annual leave.
This entitlement also includes:
agency workers
workers who work irregular hours
workers who are on zero-hours contracts
Statutory annual leave entitlement
Most workers who work a 5-day week must receive at least 28 days paid annual leave a year. The equivalent of 5.6 weeks of holiday, this does include the statutory bank holidays.
Working part-time
Part-time workers are entitled to at least 5.6 weeks' paid holiday, but this will amount to fewer than 28 days.
For example, if they work 3 days a week, they must get at least 16.8 days' leave a year (3 × 5.6).
Workers who travel to for their job
The European Court of Justice (ECJ) ruled on the 10 September 2015 that journeys to and from work made by mobile workers with no stable place of work, must count as working time, under the Working Time Directive (WTD). However, it is at the discretion of employer whether or not the employees will be paid for the time they spend travelling to and from work.
These types of jobs can include:
care workers
plumbers and other tradespeople
teachers who work at different schools over the working day
travelling salespeople
Travel between home and work may count as working time for them, but it is still up to the employer to decide if the employee gets paid for this time. The employer must follow National Minimum Wage law.
The ECJ added that, because the workers are "at the employer's disposal" for the time of the journeys, they act under their employer's instruction and cannot use that time freely to pursue their own interests.
If you want to discuss any elements of the Working Time Regulations, please feel free to get in touch.
Useful links
https://www.acas.org.uk/working-hours
https://www.gov.uk/maximum-weekly-working-hours