Our mission is to enable all organisations, regardless of size, industry or sector to have the necessary support they need to successfully manage their people by ensuring the right people are in the right roles, are engaged and channelling their talents towards the goals of the organisation.

Support
We understand the challenges you face, and we are here to assist you every step of the way. We strive to empower you with the resources and guidance you need to succeed.
Honesty
Transparency and honesty form the foundation of our interactions. We believe in open communication and straightforwardness in all our dealings.
Integrity
Integrity is the cornerstone of our reputation, and we are committed to conducting business in a principled and ethical manner, always putting the best interests of our clients first.
Personal
We take the time to understand your individual situation and tailor our solutions to ensure they are relevant, effective, and aligned with your aspirations.
Jacqui's Bio
I'm the Founder and Managing Director of Tick HR® and I am responsible for ensuring you get the right level of HR support needed for your organisation with the quality of service you expect.
I gained my HR and business experience working in the tech space over too many years to count! Here at Tick HR®, we work with many organisations in different industries and sectors, and to that end my experience and knowledge has grown way beyond.
The best thing about my job is meeting new people and being introduced to new organisations, learning what they do and ultimately getting a kick out of being able to help.
Something you don't know about me….? I have a new addiction which started during the first lockdown. I started painting my fingernails and I have developed an impressive kit of many different colours of nail gel and nail art!
Contact Jacqui on:

07745 535 635
Or why not book a slot in Jacqui's calendar https://calendly.com/tickhr/30min 
Mark's Bio
I am the Marketing Director here at Tick HR® Solutions and have been at the forefront of the development of Tick HR® Solutions from day one, conceptualising the brand and imagery of Tick HR®. I have studied several higher education certificates in marketing, employment law, recruitment and recently video animation. 
Known best for?
Making the office coffee
What is your favourite part of your job?
I like all aspects HR but I enjoy content and blog writing, marketing and drafting contracts. 
Hobbies? 
I love listening and playing music including Keyboards and guitar. Cooking is a passion.
Contact Mark on:
Kim's Bio
New to Tick HR®, I'm the HR Specialist that some of you may now have to speak to – sorry! I've worked within HR and Recruitment for nearly 10 years now and while many moments may have been crazy, I've loved every second. Consultancy has always intrigued me, the aspect of getting to work with many different businesses and putting me to the test! I enjoy helping and supporting businesses, ensuring that they have all they need to run their business successfully from compliance to strategy building. I love a challenge – so throw one at me! 
Fun fact about me? Unfortunately, I'm pretty boring at the moment after recently becoming a first-time mum and completing my MSc in HRM during the pandemic (yes, I did both – I told you I like a challenge!). I'm quite happy to just have some family time right now and get back to days out with family and friends soon! 
Contact Kim on:

07495 194 603
Lindy's Bio
I am the newest member of the Tick HR team and I am looking forward to supporting both the team and its clients as HR Administrator. Although I initially trained as a pharmacy technician, followed by a career in pharmaceutical sales, I first worked in HR and administration over 30 years ago. I gained my experience across several different sectors including Education, Finance, Customer Service and Estate Management but my last role was as an HR Administrator in an HR consultancy.
I particularly enjoy meeting new people and learning about their businesses and what makes them tick  – I can't wait to watch the Tick HR team in action and am looking forward to supporting them as the business continues to grow.
When I'm not in the office I enjoy being creative in some way.  I like to be in the garden, cooking or dressmaking – or thinking about the next project!
Something that might surprise you about me…?  In the past I helped to run a motorsport team and, from time-to-time, was part of the pit crew
Contact Lindy on:
07740 981 119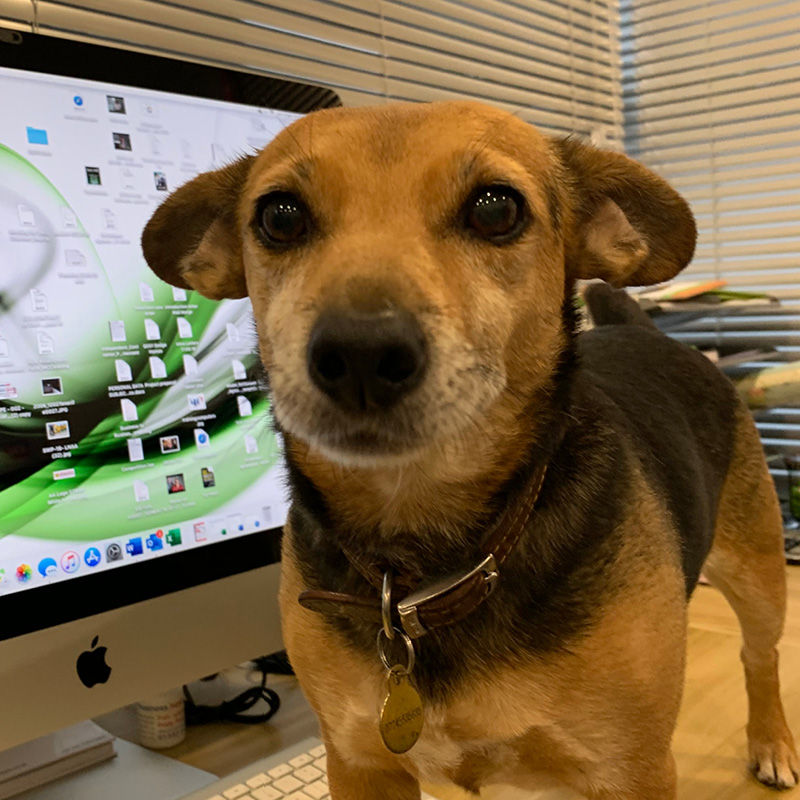 Sally's Bio
I have been with Tick HR® Solutions for nearly three years and pride myself in keeping the staff happy with my funny ways.  
Known best for?
Keeping the bosses' feet warm during the winter months.
Hobbies?
Hiding bones in the garden and sleeping in the sun
You can't contact me – I'm a dog so it's best leaving the advice and guidance to the humans!
Here at Tick HR® we like to think we are doing a great job for our clients but don't just take our word for it, take a moment to read what our clients say about us:
"We have been working with Jacqui for the last couple of years. She originally created a new staff handbook from scratch for us which looks great and covers everything we need. It has been great to have Jacqui on hand to answer questions and review all of our processes to make sure they are up to date and correct. Jacqui is always on hand to help and guide us"
"I engaged Jacqui to prepare an employment contract relating to a new colleague who was to be advising on mortgages and life insurance. For a very reasonable fee, she prepared a well-worded and logical document, which both the colleague and I were happy to sign. The document provides the colleague with a clear summary of the basis on which he is working with me, and provides me with peace of mind that all possible situations can be dealt with in a meaningful way.
If we expand further, I will be asking Jacqui to provide all necessary contracts and HR documentation."
"I've known Jacqui as a client of our business for a number of years and when I needed to get an employment contract sorted at short notice I Turned to Jacqui for advice. Tick HR set up everything for us very quickly and efficiently. I cant fault the service I received. From the start everything was clear and concise. I would thoroughly recommend Jacqui and the team to anyone needing HR advice and services"
"Fantastic advice from start to finish. Jacqui is so knowledgeable, and advised on all aspects of taking on staff. Delighted with our contracts. Highly recommend"
"We love working with Jacqui, she is an absolute star, couldn't manage without her.  Her support is invaluable, being able to pick up the phone and ask questions with her super-efficient response is great.  Jacqui updated all our contracts and terms and conditions and went the extra mile by creating our documents for expansion into Canada too.  I would highly recommend her services."
"Having worked with Jacqui for several years at global tech company, I was happy to ask for Tick HR's assistance and guidance with our Human Resources. Jacqui was a great help with recruitment, advice and preparing comprehensive documentation including our Staff Handbook.
Please Connect Me is a small company but growing fast, and to have the services of an experienced HR professional such as Jacqui when we need them, has been a great advantage. Jacqui is a pleasure to work with and we highly recommend her services."
"Would highly recommend Jacqui and her team at Tick HR. I rang maybe 3 or 4 before deciding who to use and Jacqui clearly stood out from the rest. She was by far the friendliest with a great can do attitude. She delivered exactly what she said she would and on time. I have recommended her to some friends and will continue to do so. Cheers Michael"
If you want to deal with a HR company that are genuine, down to earth, current and dedicated then you don't need to go anywhere else. I highly recommend any of the services that Tick HR offer. Not only are these services professional but they are also tailored to the individual, easy to understand and there is absolutely no pressure on sales. They don't need to sell themselves as their work sells itself. I'm a new business owner and the HR world is one that I don't really understand, nor can I really dedicate any extra time to learn about as I'm a very creative person and I have to spend time creating and thinking. Developing my business every day. Just knowing that my HR is taken care of in the background with regular updates from their team is a blessing and it allows me to continue with my daily grind!
Thanks for all your help! It's a tick ✅ from me!
We wanted a HR company that would help us to navigate the confusing society we live in! We needed to be sure that our risk assessments were fully compliant and do what they were supposed to. Tick HR have been brilliant. They visited our premises, assessed what was needed and put a package together that suits our needs. Tick HR are always available and quick to respond to any questions we had.
"Jacqui not only helped us through a very difficult time with a redundancy but made sure all our contracts of employment and staff handbooks were up to date. We relied on her expertise, efficiency and compassion and she didn't disappoint. We would have no hesitation in recommending Tick HR."
"I contacted Jacqui (Tick HR Solutions Ltd) as our business had grown and needed HR support to ensure we are compliant. Jacqui understood very quickly what we needed and explained things very clearly.
The policies, the policy documents and the contracts that have been devised and delivered to us are excellent and exactly as we were told they would be. These documents have allowed us to concentrate on running our business knowing that everything is in order and trouble free. The turnaround on delivery was impressive too.
With Tick HR, nothing is too much trouble; moving forwards, Jacqui and Tick HR have become a valuable and welcome business partner who ensure that we are compliant in all areas of our business and I hope that they will continue to be partnering us for the foreseeable future."
"I can't recommend Tick HR Solutions highly enough. As a small growing business based in Lincoln, their advice and support has been extremely valuable especially over the last 12 months."
"Jacqui and her team offered our preschool such a fantastic service – swift and super knowledgeable. It's gives us great peace of mind knowing that our employment documents have been written by an HR specialist. We will definitely use Tick HR again in the future"
"Highly recommend the service provided by Tick HR. They were incredibly supportive and offered a quick turnaround with an employment contract. Will definitely be using them again the future.
Tick HR can be your remote or onsite HR function at a fraction of the cost. Contact us to see how we can help.
Your People | Your Performance | Our Passion