My business is growing, do I need HR support?
When is the right time to have HR support?
Smaller businesses sometimes view HR as 'nice to have', a luxury that larger organisations have or worse, a box-ticking resource or cost-centre. But without rigorous employment policies, frameworks and practices in place, many will be left counting the cost of high staff turnover, sickness-absence, recruitment challenges and lack of skills.
People management tends to become more complex as firms start to grow. You might need to attract employees with specific in-demand skills to develop your product or service and increase your market share. In return, they'll expect clear paths for progression, competitive rewards and remuneration and opportunities to gain experience and develop their skills. You could encounter more problems too,  such as misconduct, poor performance and grievances.
It's not always easy for managers in SMEs to see the value of HR and, unfortunately, it sometimes only becomes a priority when something has gone wrong. This is usually a breakdown in the employee/employer relationship, serious misconduct or an impending tribunal claim, all of which can be avoidable with the right policies in place.
Having a strong HR function doesn't necessarily mean issues at work never arise, but they certainly reduce the odds and should help business owners and managers to sleep more easily at night.
Growing pains
As organisations grow, people management invariably becomes more complex and new pain points emerge. Employees have expectations from their employer over and above the basics such as rate of pay and working conditions. They expect, and deserve, investment in their professional development. If these expectations are not met, this could lead to high turnover of staff, which becomes very expensive.
Other pain points include discipline and grievance. As a smaller business, issues such as poor performance or misconduct might have been dealt with via an informal chat and an agreement to quietly part company with no harm done. However, this is not advisable and employers should limit any risk of potential claims that may arise if they've not followed the correct processes set out by the Acas code of conduct. This is where a HR professional can really make a difference because they'll guide you through the process, and help avoid the high cost of a claim for unfair dismissal.
Measuring the ROI of HR: Staff Turnover  
One of the best ways to understand employee engagement is to look at your retention and turnover rates. A high retention rate suggests that employees are engaged and therefore working hard to help the business meet its goals. But a high turnover rate, determined by the formula below, indicates that something isn't right.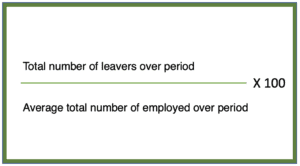 Benchmarking turnover rates can vary depending on the industry. However, an average of 10% is a stable churn of employees, assuming it's your lower performing employees leaving the business and not your top 10% of 'stars'.
This figure, combined with comments from exit interviews, allows you to benchmark performance and highlight areas for improvement – helping to reduce costs, including the cost of missed opportunity. Anonymous staff surveys add further insights and help to flag up problems before someone leaves.
Measuring the ROI of HR: Stability
Like all staff, new hires should also be managed with care. They are coming into an organisation with certain, often high, expectations and it's vital that they have the right skills and tools to do their job well. A good way to see if the organisation is meeting these needs is by using the following stability index: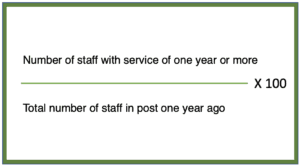 Once again, this figure is often linked to the industry you work in, for example, you'd expect a lower stability rate in hospitality compared to a tech company. A good retention rate is normally around 75% to 85% because it ensures the organisation doesn't become stagnant. You need new recruits with fresh ideas to drive innovation and growth.
A happy and engaged workforce helps to keep recruitment and onboarding costs down, so it has a direct impact on your bottom line.
Key takeaway
A strong partnership between finance and HR lays the groundwork for growth. In smaller organisations, payroll might fall to finance so they depend on HR to feed them the right information about new starters, leavers, holidays, and pay rises to ensure payments are processed smoothly and accurately when teams get bigger. Finance holds the purse-strings, so HR needs to demonstrate that a new initiative – whether it be new hires, training and wellbeing programmes – is going to deliver value.