How can HR help implement a hybrid working strategy?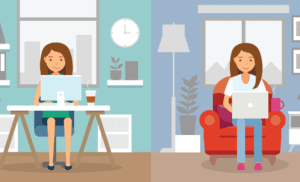 Recently the prime minister published a road map under which England could fully exit Covid-19 restrictions by June 21, meaning the stay at home order could be lifted and most employees could return back to the workplace.
A new survey conducted by Microsoft recently showed 73% of workers wanted flexible work after lockdown. The results also showed 67% wanted some kind of working arrangement to include more time spent with work colleagues and teams. Being more flexible has enabled employees to reflect on their lives and consider moving from their current job or contemplating a new career move. Results also showed 46% of employees were now considering leaving their current role.
This last year has shown a huge shift in how and where employees work whilst relying highly on technology but at the same time, taking away their human interaction, water cooler, printer and kitchen conversations.
Hybrid working can be defined as a combination of remote, semi remote and office based working. A survey found that even before the pandemic, younger employees found flexible working more attractive than a pay rise when considering roles. There may be some concern about productivity within the hybrid model, but many organisations have reported higher productivity from their employees over the lockdown period. Organisations now recognise that employees have adapted to this new way of flexible working and many have already established a flexible working culture.
How can HR help implement a hybrid working strategy?
By changing the work environment to match the hybrid model enabling staff to work more efficiently and productively.
Help clarifying responsibilities for hybrid workers.
Implementing of a hybrid workplace policy. Setting out which people and roles are eligible for hybrid working and explaining how to request hybrid working.
Help implement meetings to gather feedback.
Encourage employees to meet up on video chat breaks to help strengthen out of office relationships.
Help engage and motivate employees. Groups and clubs can bond relationships and help remote employees find common interests.
Provide an equal benefits system for remote employees.
Review other related policies including expenses, IT usage and Data protection.
Implications
For a return to the workplace, employers must consider detailed risk management approaches to safeguard employees health and minimise the risk of infection. Organisations also will need to provide a company policy and assist their staff in working safely, physically and mentally whilst working remotely.
Organisations will need to give careful consideration to the contractual implications of hybrid working. Where employees make a formal request for hybrid working through a flexible working policy (and the request is accepted) this will amount to a formal change to terms and conditions of employment. Hybrid working (and indeed other forms of flexible working) can also be undertaken on an informal basis without a contractual change. You should make sure that employees and managers understand the differences and the implications of both.
Employment contracts should also state a contractual location. This does not necessarily change as a result of hybrid working, but employees who work permanently from home normally have their home address as their workplace.
Employees should be advised to discuss any implications of homeworking with their landlord or mortgage provider and house insurer. There may also be tax implications if an employee wishes to work some of their remote time outside of the UK. More information is available in the top tips on legal considerations of homeworking.
Organisations should take legal advice where appropriate on their specific implications of hybrid working. For further advice call Tick HR Solutions today.