What is the Good Work Plan?
On 1 October 2016, Theresa May, commissioned Matthew Taylor, the Chief Executive of the Royal Society of the Arts, to lead a review into how employment law needed to adapt to keep pace with modern business practices. The review was launched on 30 November 2016 and was driven by the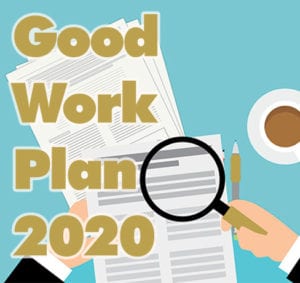 rise in atypical forms of working, particularly in the 'gig economy'
The review focused on three elements
tackling exploitative employment practices.
increasing clarity in the law and helping people enforce their rights; and
aligning the incentives driving labour market change with broader national objectives.
In 2018 in response to the Taylor Review, the Department for Business, Energy and Industrial Strategy, published a paper called the Good Work Plan and set out a plan in which the UK government would address the concerns, and implement the recommendations made by Matthew Taylor.
The UK Government's response to the Taylor Review was to seek consultation on tackling four specific recommendations:
Employment status
Increasing transparency
Agency workers
Enforcement
As well as the four areas the UK Government hoped to change for UK workers, the Good Work Plan also sets out five principles of quality work:
Satisfaction
Fair pay
Participation and progression
Wellbeing, safety and security
Voice and autonomy
The actions that the government planned to take were: –
Give ALL workers the right to a more stable contract
Remove the loophole from pay-between-assignment contracts
Ban employers from taking tips given to employees
Make employers provide a statement of written particulars to workers
Minimise the differences between different employment types
Improve the accuracy of employment status tests
Extend penalties to include underpayment of holiday entitlement
Increase the maximum penalty imposed by Employment Tribunals
Brexit appeared to delay the formal introduction of the legislations that aimed to improve working lives and strengthen employment rights.
The Good Work Plan brought huge upgrades to employment law when it came into force on 6th April 2020. Most of the HR news at this time was focused on the Coronavirus outbreak and so the Good Work Plan may have been overlooked by many organisations.
How can you stay compliant?
Tick HR Solutions would like to make sure that you stay compliant with all of the employment law changes and all the latest updates.
Get in touch today to arrange your HR compliance audit.