Why is good customer service important for my business?
So, you have a fantastic product, but if your customer service is unhelpful, unreliable, or just plain hard for people to be able get in touch with, people will hear about it, and eventually you will lose customers over it.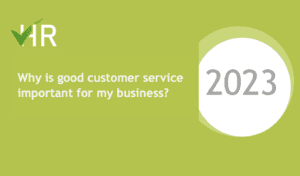 For any successful business, developing and selling a good product or service is only half the battle. Providing your customers with great customer support is just as important.
What is great customer service?
Great customer service is about building great relationships with your customers. It means that you go that extra mile to make sure that a customer is happy and satisfied with a company's products or services.
Delivering good customer service is a key ingredient to maintaining long-term profitability in today's diverse and highly competitive marketplace.
A few examples in achieving great customer support
Responsiveness
Customers are always looking for fast solutions. This means that as a business you have a rapid response time to service requests. Your team should have a workflow that streamlines different support functions. You could consider using help desk software to manage and automate the process.
Consistency
Providing consistent positive experiences is very important as consumers use multiple channels to engage with brands. Moreover, the consumers increasingly demand an effortless and unified service experience across every touchpoint during every interaction.
Know your product
Expansive knowledge of your product is an essential customer service skill. You should believe in your product, be able to discuss it's features and use cases in an insightful way. This will show your customers how the product can benefit them. You should also have knowledge to be able to troubleshoot your product or service when its not working or gone wrong.
Map your customers
Remember what was said and when it was said. Map out your customers journey and know every touchpoint.
Active listening
Behind most customer service calls is a person who requires an answer to a question or concern. Active listening is a key skill set you can develop by practicing daily on your co-workers and family. Always focus on what is being said.
Communicate clearly
The ability to clearly communicate, both verbally and in writing, is essential in customer service Sometimes you will be speaking to someone who has a different native language. Make sure that the answers to their questions are clear, concise and in your natural tone of voice.
Analyse customer feedback
You should always respond to all customer feedback whether positive or negative.
Use customer service analytics to track – customer experience, the customers journey, customer retention and customer engagement.
All this data is crucial for growth and revenue and with this analytic strategy the data can easily be understood and shared
Keeping your word
If you promise something, making sure you deliver on it is common-sense customer service. Don't let your customers down. Keeping your word is about respect and trust.
Remember – One bad customer service experience can tarnish customers' opinion of a product or a brand indefinitely.
More information on Active Listening here.